Burning Man 2013 - Photon Salon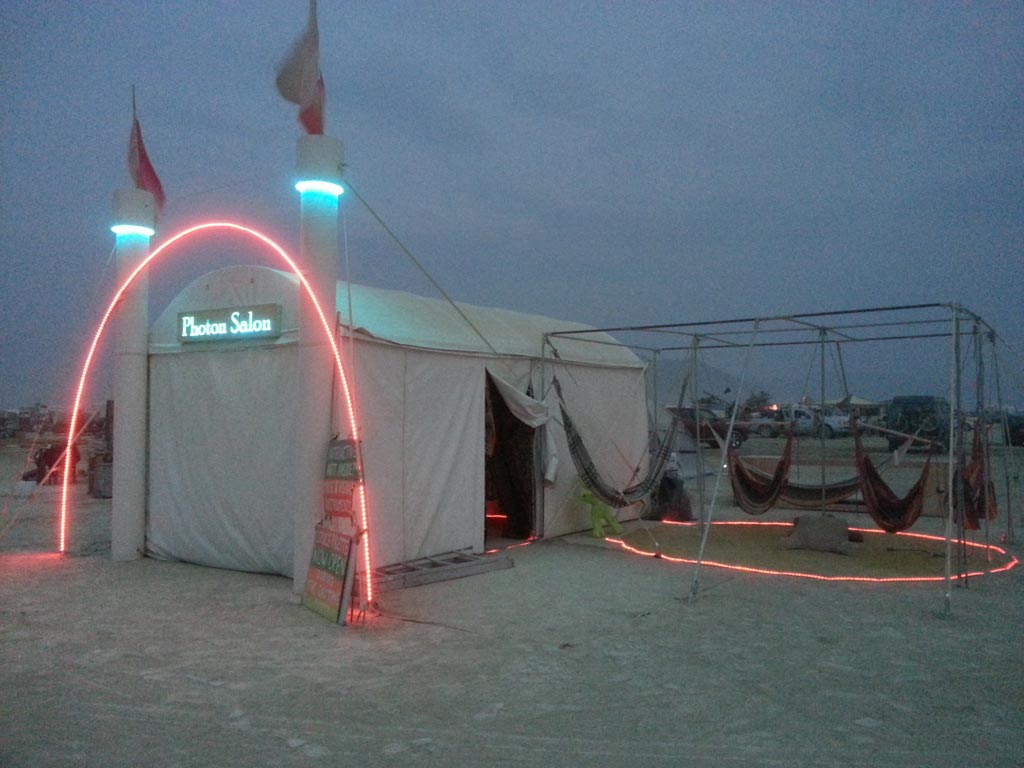 Twelve years in a row, wow! I again camped in Illumination Village, and this time created the Photon Salon - an enclosed 10'x20' tent to house a variet of light-based art. The walls of the tent were made of sun-blocking fabric, so projectors inside could be used and visible during the day. Next to the tent was a hammock area with 5 hammocks, which were a big hit both day and night. Dinko was instrumental in building everything, and a new friend Cedric Honnet was also invaluable with his inexhaustible energy and ideas. Heat inside the tent during the day was an issue, of course - it was a challenge to keep things cool enough for people and laptops - but I had things running most afternoons. Inside, the latest version of the Space Palette was available for people to play with. Actually, since the latest Space Palette was much smaller, there were FOUR Palettes, two at each end of the tent, with their output mixed together and projected on the wall. end of the tent. So, many more people got a chance to play them. Also displayed inside the Photon Salon was tappr.tv, an iPad app by Deeje Cooley - people could draw with various graphical wands on two iPads, whose output was mixed by a third iPad and then projected on the wall.
At night, the front wall of the tent was a projection screen for LoopyCam and tappr.tv. Here are some videos.